EDM Council Partnership
We have partnered with the EDM Council to deliver our comprehensive online education and certification programs at significant savings to Council members. Additionally, we are working closely with EDM Council to develop new online courses and certification programs focused on Data Capability Assessment Model (DCAM) and Financial Industry Business Ontology (FIBO) industry standards.
Our strategic partnership with the EDM Council allows us to take the next step in better understanding and meeting the needs of the financial industry in the area of information management education and certification. Read the official announcement.
Contact: For more information about corporate or enterprise certification programs and EDM Council member rates please contact Robert Rummel at rrummel@edmcouncil.org.
Pay As-You-Go
Special discounts are available to EDM Council members on the purchase of any individual courses or education package offered by eLearningCurve. Use the codes below at checkout to save.





Corporate and Enterprise Programs

There is no "one-size-fits-all" solution for enterprise customers. We offer EDM Council members several Corporate and Enterprise Programs that provide ultimate flexibility to meet their needs. Each program includes a set of course licenses which can be used to enroll students anytime within 24 months. Students can complete certifications or simply take courses that fit their job roles.

In addition, the programs include Web sessions with instructors which can go beyond simple Q&A, customized "Trends" webinars on current topics in information management, offsite or onsite consulting hours from our instructors, and other benefits.

For more information, see package overviews below or view the complete presentation.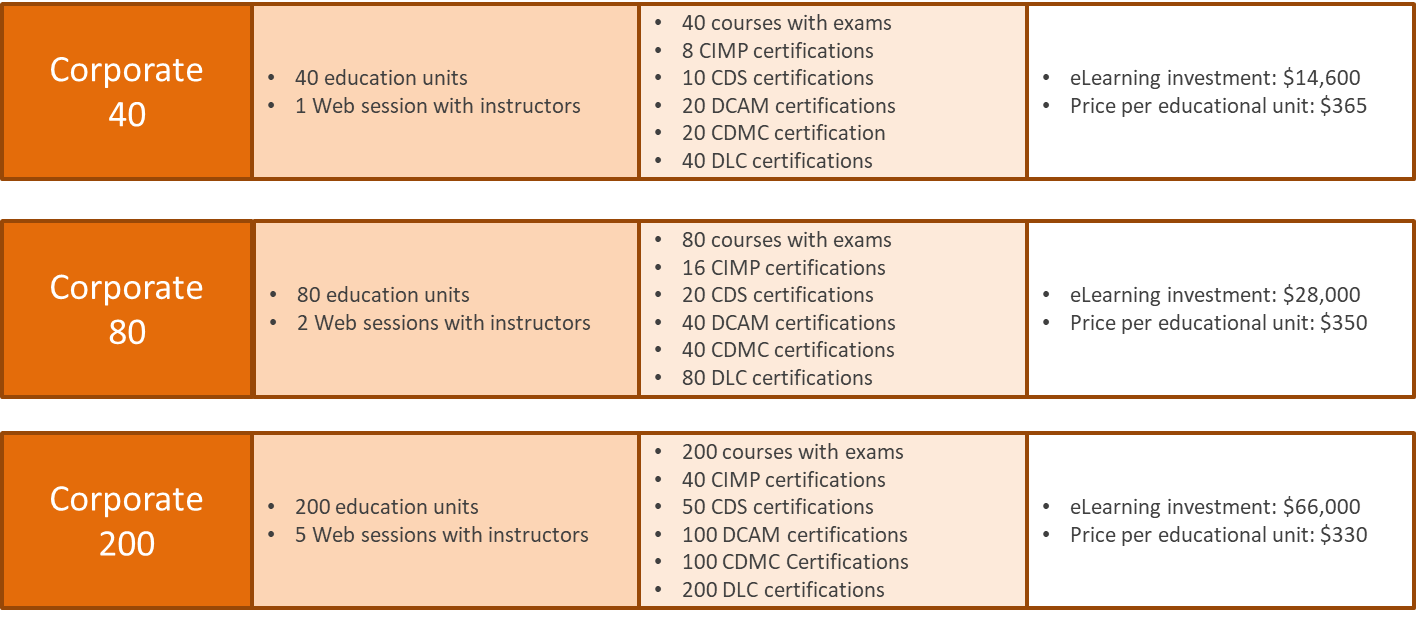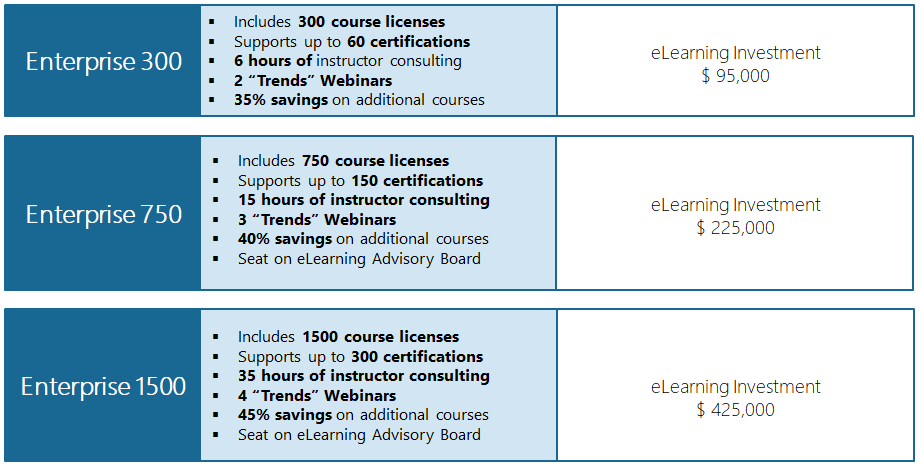 Free Evaluation / Trial Licenses
Additionally, EDMC members who are considering becoming enterprise customers of eLearningCurve can receive two free course licenses, one for a fundamentals course, and one for more advanced coursework, from the following list of courses.
| | |
| --- | --- |
| Fundamentals Courses: | Advanced Courses: |
If you would like to arrange for a trial license please contact Robert Rummel at rrummel@edmcouncil.org and indicate which two courses you would like to evaluate.