Benefits for EDM Council Members
We have partnered with the EDM Council to deliver our comprehensive online education and certification programs. See below for program details, and contact Eric Bigelson at ebigelsen@edmcouncil.org for more information about corporate and enterprise programs, and EDM Council member benefits.
Corporate and Enterprise Programs
There is no "one-size-fits-all" solution for enterprise customers. We offer EDM Council members several Corporate and Enterprise Programs that provide ultimate flexibility to meet their needs.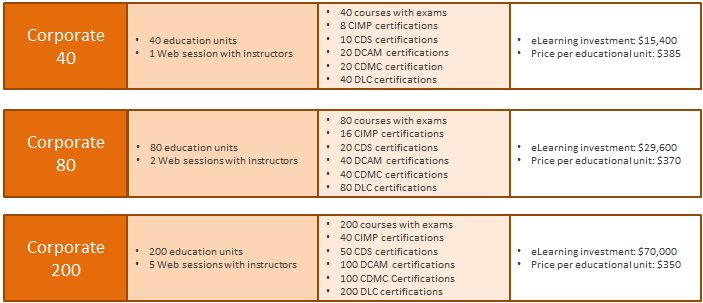 Customers purchasing Corporate packages have 6 months to assign licenses to the students. You are not limited to 40, 80, or 200 education units. You can purchase a custom Corporate program with any number of units over 40. Contact ebigelsen@edmcouncil.org for pricing.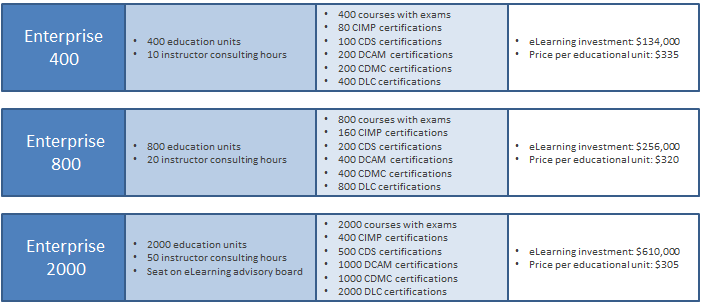 Customers purchasing Enterprise 400 and 800 packages have 12 months to assign licenses to students, and customers purchasing Enterprise 2000 have 24 months. You are not limited to 400, 800, or 2000 education units. You can purchase a custom Enterprise program with any number of units over 400. Contact ebigelsen@edmcouncil.org for pricing.
Students will have 12 months to complete their courses after they are enrolled.
Customers can purchase additional Education Units for the discounted price listed in their package or upgrade to a larger package within 6 months if they purchased a corporate package and within 12 months if they purchased an enterprise program.

Members who do not wish to purchase corporate or enterprise packages can get up to 20% savings on individual courses using the following coupon codes:
EDMC = 20% off individual courses
EDMCPACK = 5% off package purchases
Members also receive 10 enrollments in eLearningCurve 101 'Information Management 101' series of mini-courses per calendar year, which center on various information management disciplines and cover the basics including concepts, objectives, methodology, and terminology. More information is available upon request.
Free Evaluation / Trial Licenses
EDMC members who are considering becoming enterprise customers of eLearningCurve can receive two free course licenses, one for a fundamentals course, and one for more advanced coursework, from the following list of courses.
| | |
| --- | --- |
| Fundamentals Courses: | Advanced Courses: |
If you would like to arrange for a trial license please contact Eric at ebigelsen@edmcouncil.org and indicate which two courses you would like to evaluate.