Discover eLearningCurve
The Online University for Information Management Professionals
eLearningCurve delivers comprehensive online education programs in various disciplines of information management to thousands of professional worldwide. Our courses are engineered to create maximum educational value for students, combining relevant content from leading instructors with a cutting edge delivery system. With eLearningCurve, you can take the courses you need when you need them from any place at any time. Study at your own pace, listen to the material many times, and test your knowledge through online exams to ensure maximum information comprehension and retention.

eLearningCurve offers two robust certification programs. Certified Information Management Professional (CIMP) builds upon education to certify expertise in various information management disciplines. Certified Data Steward (CDS) is a role-based certification designed to formalize the role of data stewardship and to drive recognition of Data Steward as a professional designation.


Download
Education Catalog
eLearningCurve Enterprise is a flexible, scalable, cost-effective solution for teams and enterprises. Whether your team or department work in the same office, or are on the other side of the world from each other, you can train them on time and on budget with eLearningCurve Enterprise.
Scroll below to learn more about our students, curriculum, faculty, and certification programs. Also, check out this article about the rise of elearning: "Is online education taking over the conventional mode of education?" Join the discussion.
---
Our Customers
eLearningCurve's 3,000 students come from over 70 countries around the globe. Over 80% are from the enterprise customers – companies and governmental institutions who use our curriculum to educate many employees. They range from smaller clients, or project teams, that enroll a handful or employees, to larger organizations that use our education as the backbone for their internal education programs for hundreds of employees. Our enterprise customers typically come from Fortune 500 and Global 1000 companies as well as government institutions in various countries. All major industries are represented – finance, insurance, oil, telecom, software development, consulting, government, industrial, etc…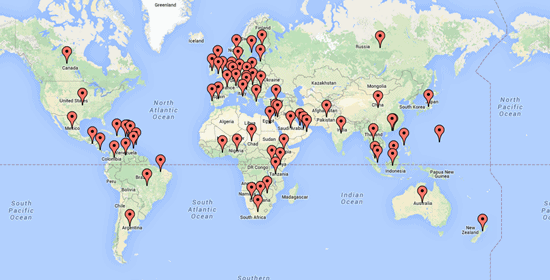 ---
Our Curriculum
Our curriculum covers all key areas of information management, including data quality, data governance, data stewardship, data integration, master data management, data modeling, metadata management, data warehousing, and business intelligence. Our courses range from fundamentals to advanced topics for seasonal professionals. New courses are developed and released on an on-going basis. If you want to test your knowledge, we offer online exams for all courses. Exams are a great way to gauge your comprehension of course material, get feedback on your progress, and identify areas for further review.
View our Curriculum and Watch Free Sneak Peeks.
We offer more than just a collection of courses, we offer information management education. Whether you are looking for a comprehensive information management training, or want to focus on a specific discipline or job role, there is a program for you.
---
Our Certification Programs
The Certified Information Management Professional (CIMP) credential is earned by those who qualify based on a combination of education and demonstrated knowledge in information management foundations or a specific information management discipline. CIMP is specifically designed for information management professionals and practitioners who are recognized for their knowledge and ability to apply that knowledge in one or more of several information management disciplines. CIMP certification shows employers, colleagues, and collaborators that you are committed to your profession, that you are well trained and that they can have confidence in your abilities and knowledge.




Data Analysis Certified (DAC) is a professional designation that affirms your data analysis knowledge and skills. The DAC designation makes a clear statement that you have learned from leaders in the field and that you have demonstrated depth of understanding and ability to apply the concepts and techniques in one or more of three data analysis subject areas: business analysis, data analytics, and advanced analytics. As Data Analysis Certified, You will be met with new respect, engage in thought-provoking conversations, and find new opportunities for career growth.




Certified Data Steward (CDS) is the only globally recognized professional designation for individuals who work in the critical role of Data Steward. Data stewards are the "feet on the ground" who work day-to-day to achieve maximum data value with minimum risk. They combine business, data, people skills to connect business and data. The CDS program is designed to formalize the data stewardship role and recognize Data Stewards as valued and essential data management practitioners. The CDS credential attests to your dedication to learning, understanding, and applying the many practices, skills, and techniques of true data stewardship.


Learn more about CDS




eLearningCurve's Data Literacy Certification program offers the world's only comprehensive data literacy certification. Data literacy is the ability to understand, find meaning, interpret, and communicate using data. Data literacy is fundamental to success as a data-driven organization and is an essential skill set for every business and technical professional. Data Literacy Certified (DLC) individuals demonstrate knowledge across the entire data literacy body of knowledge from data fundamentals to data analysis. The DLC program helps you to assess your knowledge and to fill knowledge gaps. DLC certification and provides a respected credential affirming your abilities to perform in a data-driven organization.


Learn more about DLC




DCAM® (the Data Management Capability Assessment Model) is the industry-standard, best practice framework designed to assist today's information professional to develop and sustain a comprehensive data management and analytics program. DCAM certified professionals are recognized for expertise across a comprehensive knowledge continuum that includes data strategy, program management, business and data architecture, data and technology architecture, data quality management, data governance, data controls, and analytics management.

Learn more about DCAM



---
Our Faculty
We work with the most sought-after instructors in the field of information management. If you have been to a big data conference or checked an information management bookshelf you will recognize names of many of these experts, training gurus, and top consultants. With eLearningCurve you can benefit from their expertise without leaving your home or office.
---
Free Webinars
By popular demand, we ran a series of free 30-min webinars. Designed to fit into your busy schedule, the webinars offer a quick look at some of the hottest topics in information management today. These topics are addressed in far greater depth and using eLearning methodology and technology in our online courses.